Vinyl Flooring in Webster, TX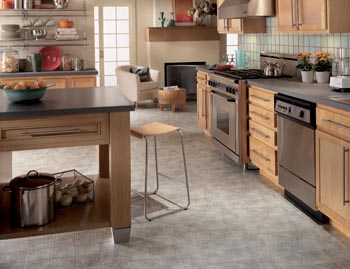 Vinyl floors are the ultimate combination of durability and flexibility in an affordable package. Vinyl flooring can often be more affordable per square foot than other types of flooring. The ease of installation and longevity of this impact-resistant flooring option makes it the cost-effective choice for high traffic rooms. Our warehouse showroom is fully stocked with a huge variety of vinyl options that are suitable for any room, and our experts are standing by ready to help you find the perfect floor for your home.
Any room can benefit from a vinyl floor installation, because vinyl comes in a variety of different formats depending on the application. Consider luxury sheet vinyl for spanning multiple contiguous rooms with a great look that's easy on the budget. Homeowners choose luxury vinyl tile flooring (LVT) when they want the style of ceramic, porcelain, or natural stone tiles with the low maintenance of vinyl. We recommend luxury vinyl plank flooring (LVP) for rooms that would benefit from the space-expanding look of hardwood flooring, but without the concerns about humidity and scratches.


The Ease of Vinyl Floor Installation
The advantages of vinyl floors begin at installation and last a lifetime. Vinyl floor installation is fast and easy, no matter what type of vinyl flooring you select. Luxury sheet vinyl comes in rolls and can be precut from our careful measurements to speed up installation process. The advantage of sheet vinyl becomes especially apparent when flooring multiple rooms, as this type of floor avoids unsightly transitions between rooms for a clean, modern look.
Vinyl tile and vinyl plank flooring present their own advantages as well. Unlike natural materials, luxury vinyl can be easily cut with a common utility knife, enabling our expert installers to shape the floor to the contours of the room. This speeds up installation as well as increasing accuracy. All of these advantages mean that a vinyl floor installation can often be completed in half the time it would take for other flooring materials.


Vinyl Floors for High-Traffic Areas
While vinyl is a great flooring choice for any room, our flooring experts often recommend it for high traffic areas such as the kitchen or hallways. Because vinyl flooring is springy without being soft, it is easy on the feet while standing up to foot traffic. The water, stain, and scratch resistance of luxury vinyl make it appropriate as a long-lasting choice for a busy room. As well, the low maintenance requirements of vinyl set it up as the perfect option for busy families. Come in today to browse and buy from our vast selection of vinyl flooring, including sheet vinyl, luxury vinyl tile, and luxury vinyl plank flooring.



Call or come in today to find the perfect vinyl flooring for any room in your home.